Boost Sales With Traffic From Expired Domains !!!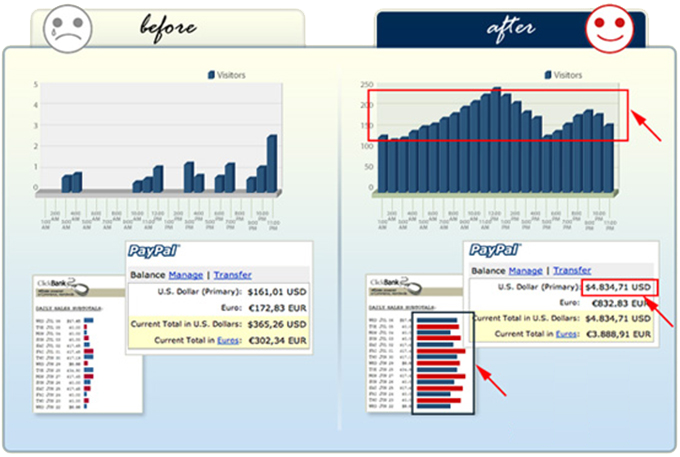 Trafficbean.net is a certified expired domain traffic provider that owns its own specialized algorithm to improve visitor targeting performances by 200% compared to regular delivery scripts used to redirect traffic from expired domain names.
You have a great site and you have spent hundreds of hours working on it in creating the perfect design but you have hard time finding targeted traffic for an affordable price? Why should you spend all your revenue in expensive advertising methods such as pay per click or search engine optimization services? Most of these online advertising methods are time consuming and the results are unfortunately not guaranteed.
You can use traffic from expired domain names to redirect tons of qualified visitors to your website instantly!
We have developed an algorithm to redirect qualified visitors to your website. We offer a list of 125 specific niches with every expired domain in our network manually classified by our team. It's your turn to benefit from our targeted traffic network by selecting the right category and the number of visitors you want to receive. We will set up your traffic campaign and start the traffic to your website within 6-12 hours maximum.
We are in the online advertising industry for a long time and repeat customers are the key of our success. Without the business of our repeat customers, we wouldn't remain online for that long. Stop spending your time in doing two jobs, seller and marketer and let the advertising job to professionals and spend your valuable time in improving your business to handle more sales.
TRAFFIC DELIVERED FROM 'EXPIRED DOMAINS'
Advertise on domains your customers are visiting right now! Boost your sales with the Domain Redirection technology.
Domain redirection is an automated process that is completely invisible to online visitors or surfers. When visitors type in or click a link to one of our expired domains, our customers' website will appear in their web browser.
Today's Extra Hot Deal
250,000 visitors from USA delivered
within 30 days for only $249.
Click here to start your campaign NOW!
Every day, thousands of domain names expire because the owners have either abandoned them or failed to renew them. Most of these expired domain names experience some traffic achieved by the efforts of the owner before he/she lost interest. We use specialist web services to alert us to domain names that have expired in the past 12 hours. We then gauge the traffic levels through other online tools.
We register the domain ourselves and direct the traffic to our server if the domain has a clearly-defined target market and consistent traffic flow,
Here are a few examples of expired domain names we have out of the 2,700 expired domains we have registered to promote our customers Websites.
Click the URLS below to see how your ad page is displayed!
Answers to Some Common Questions . . .
What is a visit or page views? Is this the same as a hit or page loads?

We will send you QUALITY visitors that many services cannot offer or will deceive you into believing they are sending you high quality visitors. Many services send visitors who never even see your page! They use various tricks to send traffic so that it appears as if someone has actually visited your site.
On the other hand, all of the visitors we will send ACTUALLY SEE your website. A visit occurs when someone actually visits a domain name.
Don't be confused by the term "hit." A hit is not necessarily a visit. Technically, a hit occurs whenever your page is loaded. When you loaded this page, you generated many hits - one for each image you loaded and one for the page itself. In common usage, people are referring to visits when they talk about hits.

WE COUNT VISITS, NOT HITS.
We encourage you to click here for a few examples of expired domain names we have registered to promote our customers' websites. You can visit each link to determine how your ad page is seen

How many domains do you own?

Although we only own 750 domains, we advertise our customers' websites on thousands of domain names. We do not disclose all of the domains where your website will be advertised because most of them are still available. Our domain registrar partners allow us to use them for free until they are registered.

How long will it take to start receiving visitors ?

When you purchase a package, we will start your campaign within 1-6 hours. As soon as your campaign is live, visitors will start visiting your site. We guarantee you will receive the number of visits promised within 30 days. We will also supply you with the login information to check your stats in real-time.

Do you have any restrictions on the content of my site?

Your site must be LEGAL in the target country and must NOT contain any popup windows or other prompts on the page to which we send the traffic. Sites that contain illegal content or hate text or promote illegal activities are not allowed. All orders are accepted subject to our terms and conditions of sale. Your order will be fully refunded within 72 hours if your website is not approved.

How many visitors will I receive daily?

You can specify the amount of visitors you need daily with your traffic campaign
Click here to start your campaign NOW!
The types of Traffic provided by Trafficbean.net
HIGH QUALITY TRAFFIC DELIVERED THROUGH 'EXPIRED DOMAINS'
LIST OF AVAILABLE COUNTRIES :
ALGERIA

AUSTRALIA

BELGIUM

BRAZIL

BULGARIA

CANADA

CHINA
CROATIA

CZECH REPUBLIC

DENMARK

EGYPT

FINLAND

FRANCE

GERMANY
HONG KONG

HUNGARY

INDIA

ISRAEL

ITALY

JAPAN

KOREA
MALAYSIA

MEXICO

MOROCCO

NETHERLANDS

POLAND

PORTUGAL

ROMANIA
RUSSIA

SINGAPORE

SLOVENIA

SPAIN

SWEDEN

TAIWAN

THAILAND
TURKEY

UNITED STATES

UNITED KINGDOM
AVAILABLE CATEGORIES
Advertising Media
Agriculture
Animals
Antiques
Arts
Associations
Astronomy
Auctions
Autos
Babies
Bathroom
Beauty
Bicycles
Boats
Books
Business
Building
Casino
Camping
Charity
Childrens Products
Clothes
Collectibles
Computer Advice
Computer Software
Computer Viruses
Confectionary
Cooking
Cosmetics
Credit Cards
Dance
Debt Consolidation
Diet
Domain Names
Education
Employment
Entertainment
Exhibitions
Fabrics
Family
Fashion for Men
Fashion for Women
Finance
Fitness
Flights
Food & Beverage
Free Games
Free Stuff
Multi-Level-Marketing
More...
OUR CLIENTS